ABOVE, it is necessary to route two lines from the engine compartment, all the way to the front of the car. These two lines, one high pressure and the other low, must be mounted securely to the pan. I.C.E. uses special mounting clamps to retain the hoses. BELOW LEFT, the primary condenser is mounted behind the front beam.
resulted in the development of a highly efficient air L-conditioning system. All of this has made fitting an air conditioning unit into a VW more appealing than ever before. The power now required to spin today's air conditioning compressors is far less than what it used to be. And. they are physically smaller in size and easier to mount.
This past month, we had a chance to visit Bob Poggi at I.C.E. once again, and update our outlook at fitting an A/C unit into a VW Beetle. For this example, I.C.E. was equipping a new 1996 Mexican-built Beetle with u complete air-conditioning system, and from there the car was to be export directly to Japan (it will not be driven in the U.S. so no letters please!). Similar units are available in kit form for a number of different year Beetles, along with Ghia. Vanagons, and most water-cooled, second generation VWs, What is

ABOVE, with the right wheel removed, you can see how the primary condenser is mounted behind the front beam.Yes, it is close, but does not interfere with the steering. RIGHT, the entire evaporator unit mounts under the dash with a number of self-tapping sheet metal screws, This unit is made primarily from ABS plastic, so it really doesn't weigh as much as it looks.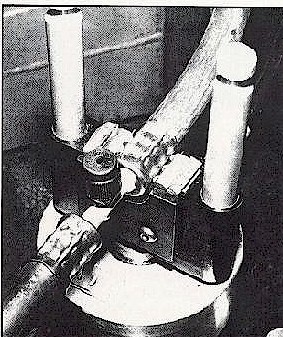 Above, high-pressure lines are custom made for each application. This special Atco hydraulic press is used to crimp the fittings onto the special neoprene hose. The type of freon gas used will determine which type of fittings are required.

Below, the primary condenser with fan.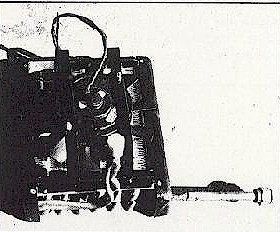 LEFT, several holes need to be drilled into the floor pan to either mount the primary condenser or, allow the pressure lines to pass into the interior. BELOW, the drier/separator is positioned inside the right front wheel well as shown.