unique about the late model Mexican Beetles is the EFI induction system, using a single throttle body, no case mounted fuel pump and an electronic ignition. I.C.E. has come up with a set of custom mounts for this popular application, but mounts are also available for carburetor engines, and some dual carb installations. The best idea is to call them, and they can advise you of what mounts are available.
The complete A/C installation would take an average person with a fair amount of tools, the better part of a weekend to fully install. Once completed, they would then have to take the car to an air conditioning specialist and have the system charged with freon. After watching the crew at I.C.E. install the unit shown on these pictures. we'd have to say that the only tricky part of the installation deals with the high-pressure lines. During the installation at I.C.E.. the lines were made up on site. However, in the case of a kit, the lines are precut to size, with all necessary fittings installed beforehand no sweat. So. if you ever wanted to beat the heat and still drive your VW, take a look at how a modern day A/C unit is installed.


FAR RIGHT, the larger of the two lines is the low pressure line from the drier, which now connects to the evaporator. The small line is for drainage of moisture to the condensation), which builds up under normal conditions. Once this installation is completed, the carpeting will cover all of this up nicely.

RIGHT, 12v power hookup for blower motors comes from behind the dash and the main fuse panel. Kit comes with pre-cut wiring, relays and connectors.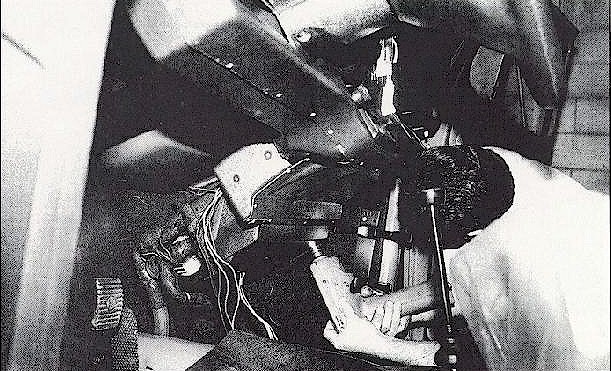 ABOVE LEFT, the ignition coil is re-mounted on top of the fan housing and out of the way of the compressor. This car is equipped with a factory electronic ignition, so the coil may look different.
ABOVE RIGHT, the two pressure tines are then connected to the compressor (one high pressure, the other low).