AC Kits
INCREASE PERFORMANCE
MORE HORSEPOWER
INCREASE FUEL EFFICIENCY
A/C KITS For a Wide Range of Vehicles
COMPATIBLE WITH OZONE FRIENDLY REFRIGERANT R-134A
BMW 3,5,6,7 Series, Porsche 911, 944
Mercedes 190, 200, 230D,E, 280, 300D, SE SEC
Mercedes 320ES, SL, 350, 360, 420, 450, 500, 560
HONDA Accord, Civic
TOYOTA Pickup, Camray, Celica, Corolla, Cressida
NISSAN Pickup, 300ZX, Maxima
MAZDA (Call)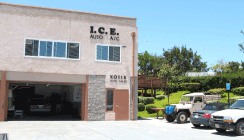 For over 40 years ICE Auto Air has been manufacturing and servicing automotive air conditioning systems.
Automotive air conditioning has been around since the 1940s and little has really changed since the first systems were developed. However, the reevaluation of the Montreal Protocol — a multinational, worldwide agreement that concerns itself with the depletion of the upper ozone layer - had a major impact on the auto air-conditioning industry, which used CFC R-12 refrigerant, aka Freon (an ozone-depleting substance) almost exclusively until the 1994 model year.
Retrofitting and Installation Articles...
Chances are, if you have heard of ICE Auto Air in San Diego, then you know they have been making auto air conditioning systems for the last 36 years.
Way back in 1977 contributing editor, John Rettie, traveled south to the San Diego area to visit the home office of International Conditioning Enterprises
ICE Auto Air
in National City, California, to research air conditioning units for VW's. Well...needless to say, a lot has happened to the air conditioning industry since that visit. Check out the
Articles Page
on retrofitting your Auto AC and the Effects of Freon on Ozone.
ICE Auto Air understands auto air conditioning issues from installation to repair - retrofit to reconditioning. We offer auto air conditioning support for:

Volkswagen, VW

VW Bus
Volkswagen Transporter
Volkswagen Westfalia 1968-1979
Volkswagen Crewcab
Volkswagen Single Cab
Volkswagen Beetle
Volkswagen Bug
Volkswagen Vocho
Volkswagen Kafer
Volkswagen SuperBeetle 1971-79
Volkswagen Karmann Ghia
Volkswagen Kit Car

BMW

BMW 1600-2002 1968-74
BMW 2002tii
BMW 1600tii
BMW 2002
BMW Bavarian
BMW 3.0CSI

Porsche

Porsche 911
Porsche 911S

We specialize in:

Compressor bracketry
Compressor failure

Check out our Articles!